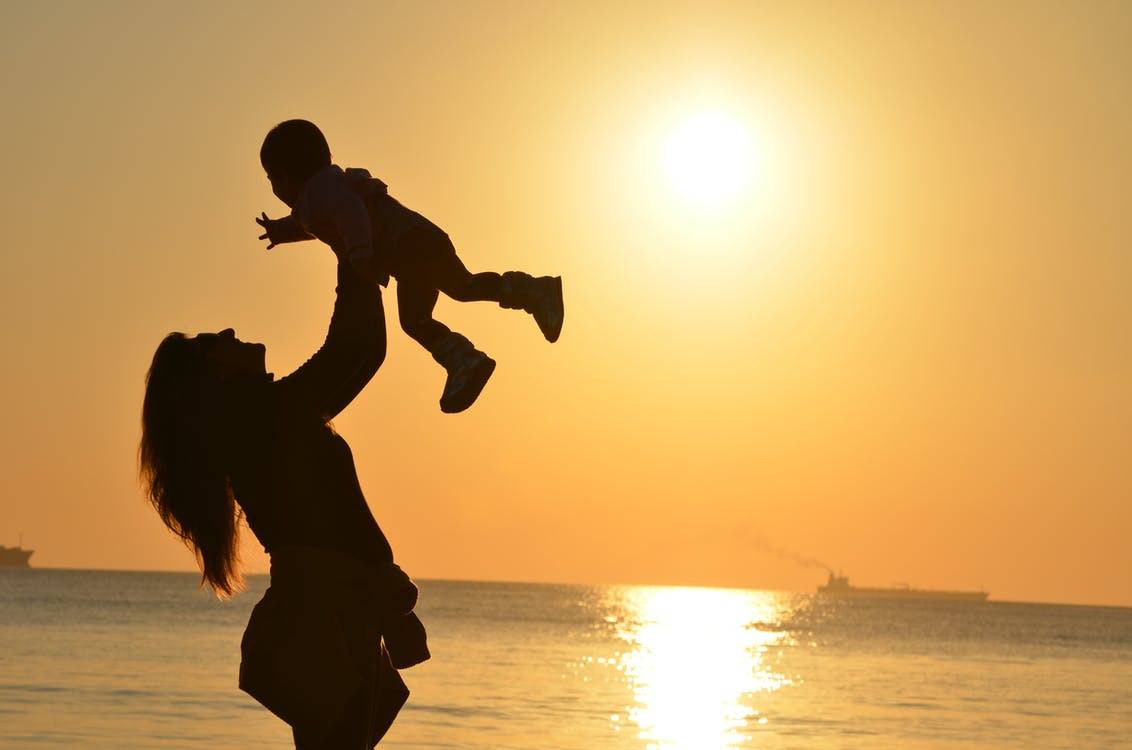 (Credit: Pixabay and Pexels) Mother's Day 2020 is here, and we've invited some special mommies to share their thoughts and insights on their overall motherhood experiences as well as their approach to living.
This year we all celebrate Mother's Day under very strange circumstances. As communities all around the world try their best to battle against the COVID-19 virus through social distancing and movement controls, most of us remain stuck at home hoping and waiting for things to get better.

Indeed 2020 really hasn't turned out to be the year we all hoped for—most of us entered the new decade with renewed hope of greater things to come but have instead come face to face with one of the most difficult challenges of our time. 
But despite it all, so many of us have found resourceful ways to cope. While social distancing at home, some of us have picked up cooking skills, others have learned how to manage time better, and many more have learned new ways to stay positive in the face of hardship. 
Interesting enough, many of us have found ourselves picking up these skills from a group of women—most of whom have become experts at managing the household and keeping the family together: mothers. 
Over time, the role of a mother has evolved to include many different skillsets, from being traditional caretakers of the home in the past to now also becoming successful players in the industry while also raising kids in tow. 
To celebrate the great mothers in our lives this year, we reached out to six mommies who are making waves as professionals, entrepreneurs, and online personalities to get their quick thoughts on their motherhood journeys so far. They are: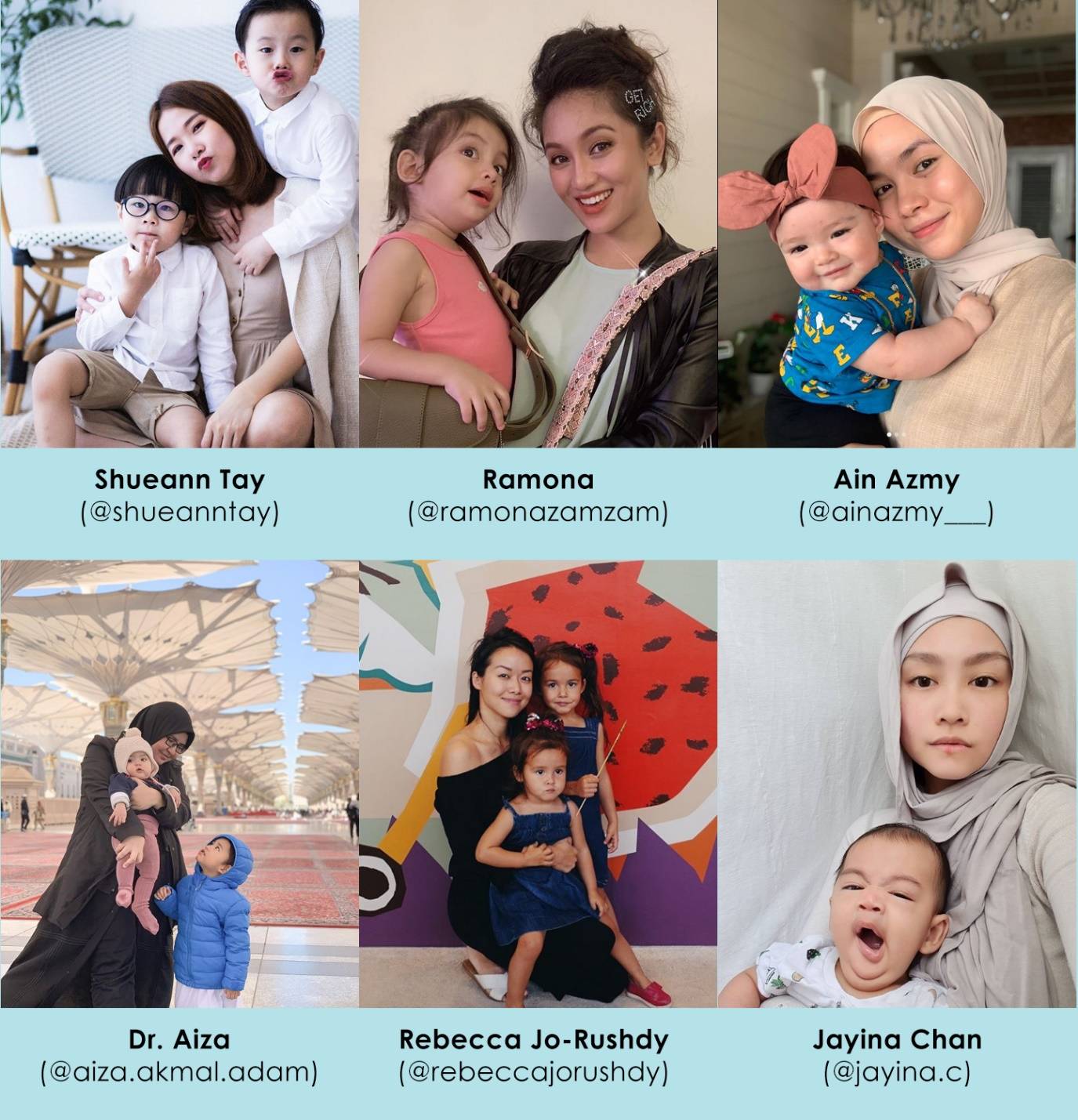 Shueann Tay (@shueanntay) from Johor, mompreneur with two amazing boys aged 3 and 5. 
Ramona (@ramonazamzam) from Perak, actress and mommy to a sweet 2-year-old girl. 
Ain Azmy (@ainazmy___) from Kedah, influencer mommy to a beautiful 1-year-old girl. 
Dr. Aiza (@aiza.akmal.adam) from Johor, medical doctor turned full-time mommy with an awesome 4-year-old boy and adorable 9-month-old girl. 
Rebecca Jo-Rushdy (@rebeccajorushdy) from all around the world and now Malaysia, KonMari consultant and mommy to two wonderful girls aged 4 and 6. 
Jayina Chan (@jayina.c) from Singapore, mompreneur with a delightful 1-year-old boy and an incredible 4 year-old-daughter. 
We want to give a huge shout-out to all our participating mothers for taking the time to answer our questions, and hope you'll follow them on their Instagram profiles to keep up to date on their journeys as mommies. Now on to the Q&A!

What is the best part about being a mother?

To kick things off, we asked our interviewees what they thought was the very best thing about being a mother. Each of them had answers ranging from the simple love between mother and children to the valuable life lessons they've learned along the way.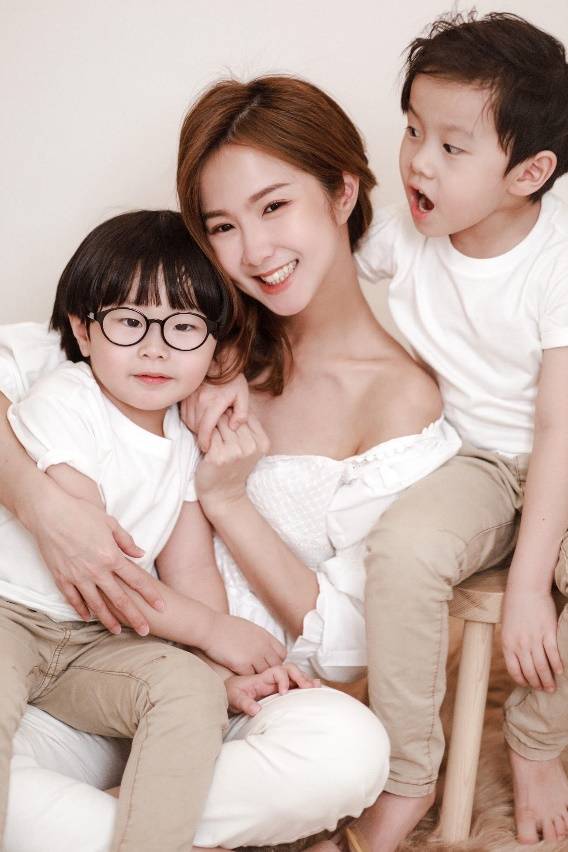 Shueann Tay doesn't need anything more than the unconditional love between herself and her two sons.
Shueann Tay: It's simple! The best part about being a mother is really just the unconditional love that we have for each other! 
Ain Azmy:I get to experience small moments that just can't be explained or characterized—like those fleeting moments where your child says something totally unpredictable! 
Ramona:Now I understand so much deeper about responsibility and how meaningful life can be after having a child. It's truly an amazing experience to see how you've brought a precious life into this world from your very own body!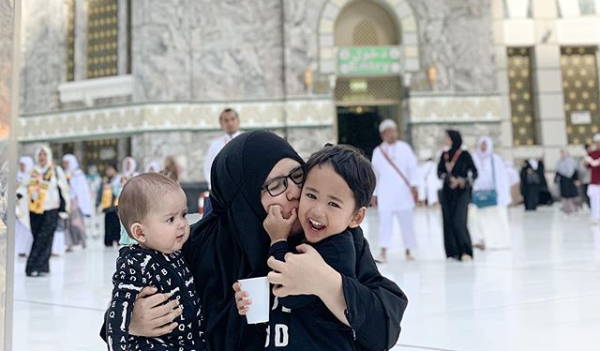 Dr. Aiza thinks just being able to see her kids grow up is a good enough reward for being a mom.
Dr. Aiza: The best thing about being a mother is spending most of my time seeing my kids grow from birth to who they are now, and the same every day onward! 
Rebecca Jo-Rushdy: The best part has been realizing you're not the center of the universe. Motherhood cracks your heart wide open to receive and give beyond your wildest expectations! 
Jayina Chan:The best part about being a mother is having your children snuggle in your arms while knowing that you're providing them comfort and a safe haven, regardless of where you are. 

What do you do to make things better for your family during the pandemic?

Seeing the situation today, we also decided to get our mummies' insights on what they're doing to make things better at home for their families during a season where everyone's time is spent mostly at home.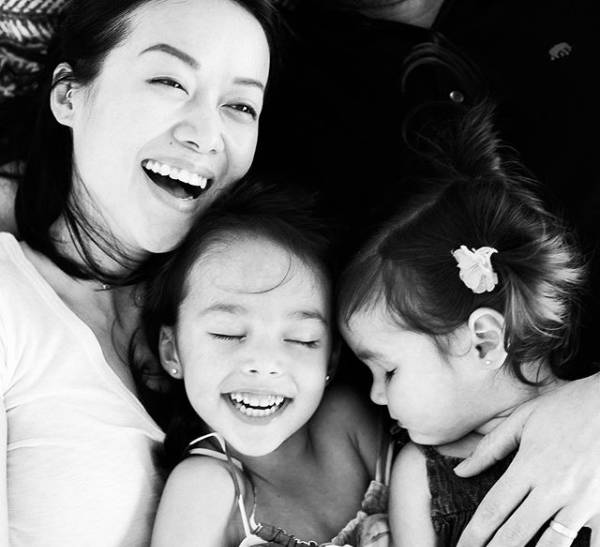 Rebecca Jo-Rushdy makes sure she has her alone time in the morning 
so she can take care of her family during the rest of the day.
Rebecca Jo-Rushdy:I make sure my own cup is filled so I can be a better parent by trying my best! As an introvert, I crave my alone time. So, I've also been waking up 5.30 in the morning to get my meditation done and have that one hour of precious alone time before my family wakes up. 
Shueann Tay:As I still work home during this period, I set aside time to spend with each of my kids and ask them what they'd like to do—sometimes letting them choose helps build their self-confidence. Also, I believe that as parents we need to keep things positive, so I give them positive reinforcement and lots of praise for the things they do right. 
Jayina Chan:These are tough times for most of us, especially when the responsibilities of each role have significantly increased in times of crisis. Mothers still have to hold it together for our families regardless of the anxieties we may be facing. I focus on keeping the children happy, the household running, and the income coming. It sounds like it's just three things to do but is in fact extremely tough.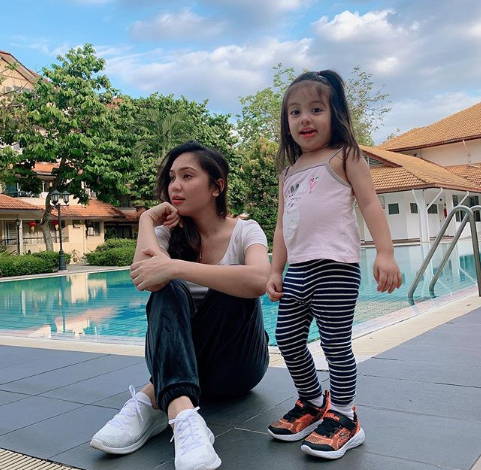 Ramona hasn't let the chaos at home take away from the amazing bonding 
time with her family during the COVID-19 period. 

Ramona:I can't deny the fact that life at home has been a bit chaotic with our child at home with us all the time. But quality time with our child has definitely increased, more than ever! I've gotten used to it after the first few days, and now I try some new activities from time to time to keep the family together as we try to spend as much quality as possible time during the MCO. 
Dr. Aiza: I try to make my kids—especially my older son Adam Jibreel—understand the current situation by preparing activities on Coronavirus awareness and hygiene in a fun learning sort of way. 

What tips and tricks do you have for other mothers to make life 
easier and more fun every day? 

As a gift for all our mommy readers out there, our interviewees also decided to share some secret life hacks and philosophies to making the task of being a mother just a bit more enjoyable each day. Here's what they said…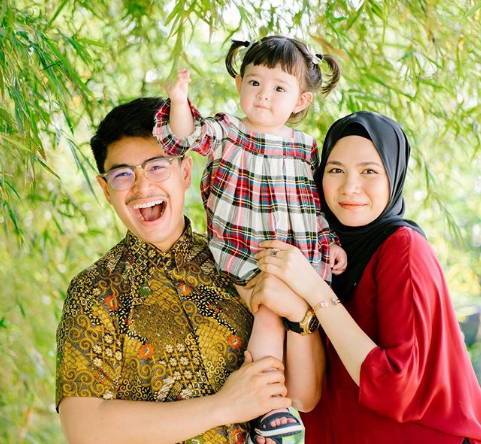 Ain Azmy says to never feel too pressurized to perform, especially when you're having an off day as a mother. 
Ain Azmy:Don't put too much pressure on yourself! Sometimes I feel like we put so much pressure on our kids and ourselves to be perfect. The same goes with meals—don't stress about having the perfect lunch or dinner. We all need a 'pass' on some days where we just aren't feeling up to making a great meal. It helps everyone end up happier and less stressed out. 
Ramona:I honestly have no idea how I'm still surviving, hahaha! One has got to be positive and keep going with the flow, I guess, and that's what I've been doing. Staying calm and patient and trying to be as positive as I can does help to create more fun every day.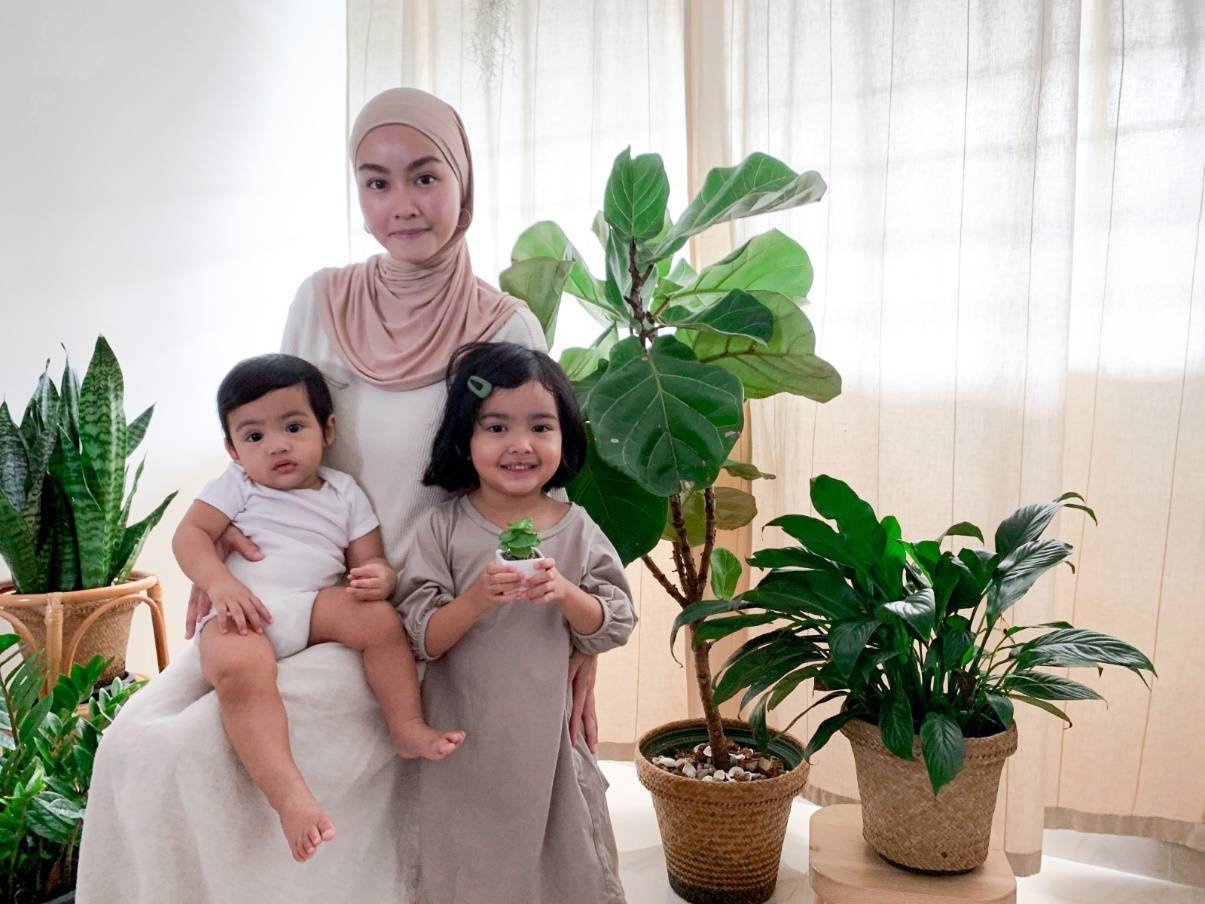 Jayina Chan thinks that self-care and consistency are key to a happy household.

Jayina Chan: Take care of yourself first every morning. Wash up well, have your favourite hot beverage, then take many small breaks throughout the day. Motherhood is a marathon—it's not about the grand gestures that we do for the kids, but what we do consistently that keep the days running smoothly. 
Dr. Aiza: Just focus on your own motherhood journey—everyone goes on their own journey in a different way! 
Rebecca Jo-Rushdy: As women, we're often hardwired to be the "martyrs". But make sure your own cup is filled first and do something for yourself that is completely unrelated to mom-ing. Even catching a 10-minute teatime in solitude is bliss and can replenish your energy immensely to be able to calmly tackle anything that gets thrown your way!Shueann Tay: Create a flexible but consistent daily routine. Your child can also help plan the routine for the day together. You're a model for your child's behavior, so praise yourself for what you've done today—you're a star! 

Bonus Round: What is your favorite book from baba baa? 

With all our interviewee mommies being fans of baba baa products, we also decided to ask them for their favorite book recommendations from baba baa and why they liked them so much. If you're thinking of checking out their favorites, click here to see our collection! 
Dr. Aiza:Mine is the Press-and-Learn English, Malay, and Chinese Sound Book because my son Adam Jibreel loves learning languages through that book—in fact he's learning Mandarin, too! 
Shueann Tay: My kids really enjoy the Press-and-Learn English, Malay, and Chinese Sound Book. My sons Coen and Adler really enjoy the method of fun learning and I can see their Mandarin has improved. 
Ramona: The Rasa Sayang Sing-and-Record book. It brings back so many childhood memories and I think my daughter enjoys the songs in there the most!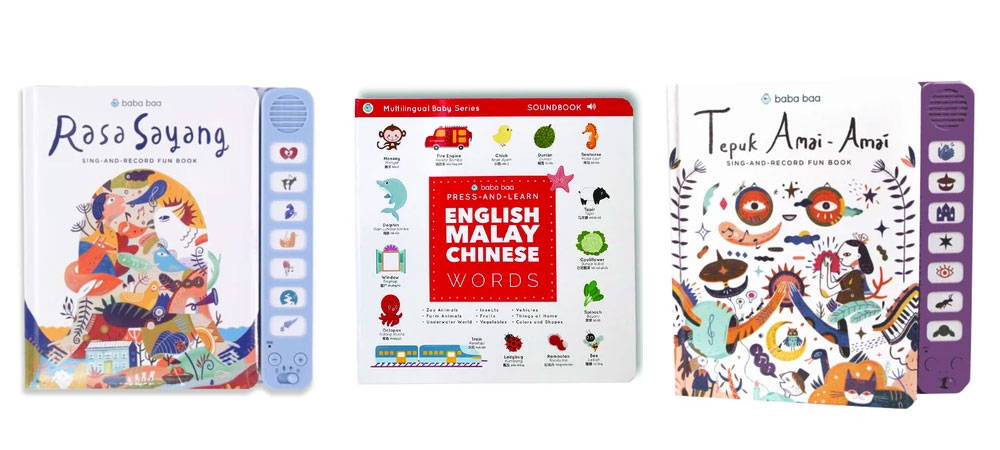 Jayina Chan:Definitely the first Rasa Sayang Sing-and-Record book! All the classic folk songs are so fun to sing along to, and the illustrations are so beautiful. Thank you for making it, baba baa! 
Ain Azmy:The Rasa Sayang Sing-and-Record book is my all-time favorite to read to my daughter Alana because of the five folk songs that remind me of my childhood. I want my kids to be able to sing those 'heritage' songs from our time and enjoy every bit of it. Also, every song in the book has its own story and origin, which makes me all the more excited to tell her stories about them as she grows up! 
Rebecca Jo-Rushdy: The Rasa Sayang Sing-and-Record book, for sure. As we're not Malaysians, learning Bahasa with the kids has been a fun journey! Rasa Sayang was one of the first songs they learned in Bahasa at school, so they were delighted to find the song in the baba baa books. It's also my go-to gift when visiting friends and family overseas, so I can share a piece of Malaysia with them. 

******
We hope you enjoyed this little interview with our mommies this Mother's Day and hope that all mothers reading this will find encouragement and renewed strength to take on the beautiful journey of motherhood with all its thrills and memorable moments.From all of us at baba baa, we wish all mommies out there a happy and fulfilling Mother's Day 2020!