We can't ignore the importance of reading. It's the activity that makes us wiser, more creative, and more colourful individuals, which is exactly why many of us try to get our kids reading from as early an age as possible.
But to get our kids into the habit of reading is easier said than done. The two biggest questions parents ask are: how can we make reading fun, what books do we give them?
We've gone and answered those questions in a previous blog post which you can read here, and we pointed out that our books are especially great for getting your kids into the habit of reading, all while having fun doing it.
But now that you actually want to get one of our titles for your little one, which one of our great sound books should you pick?
To make it easier to decide on what book to get your kids, we've created this handy guide that explains each and every single one of our titles, and how you can use them to enrich your little one's life!
Rasa Sayang Sing-and-Record Fun Book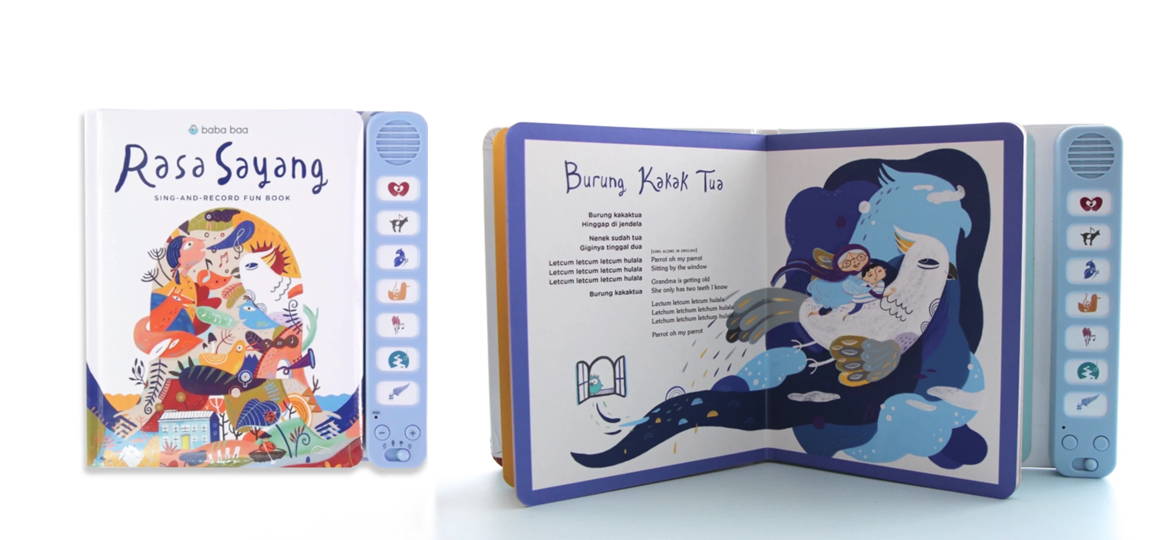 The book that started it all! The RasaSayang Sing-and-Record Fun Book was designed by us to become a fun way forbabies and toddlers to develop a love for reading, singing, and learning about thefolk songs and lullabies of Malaysia, Indonesia, Singapore, and Brunei.
The book contains seven beloved songs:

Rasa Sayang
Chan Mali Chan
Burung Kakak Tua
Anak Itik Tok Wi
Bengawan Solo
Lenggang Kangkung
Gelang Sipaku Gelang
Each lullaby comes with its own accompanying artwork that display elements of each song with colourful and mesmerising illustrations, and the included battery-operated sound module adds a whole new level of musical fun—allowing readers to listen to each song, sing along to the lyrics, and record their own karaoke renditions that can be played back over and over again!
Ways to use it:
• Incorporate it into your kid's learning or play sessions during the day. As they go through each song, you can assist them in pronouncing the lyrics and keeping in tune and use the catchiness of the tunes to help them learn through repetition.
• If they're a bit older, you can explain the meanings of the lyrics and tell them about more about the song and what it meant to you when you were a kid yourself.
• Use it as a bonding tool when you want to connect with your kid. We find that before-bed sing-along sessions are especially fun when they're still discovering how to utilise their vocal chords!
Rasa Sayang Pocket Sound Book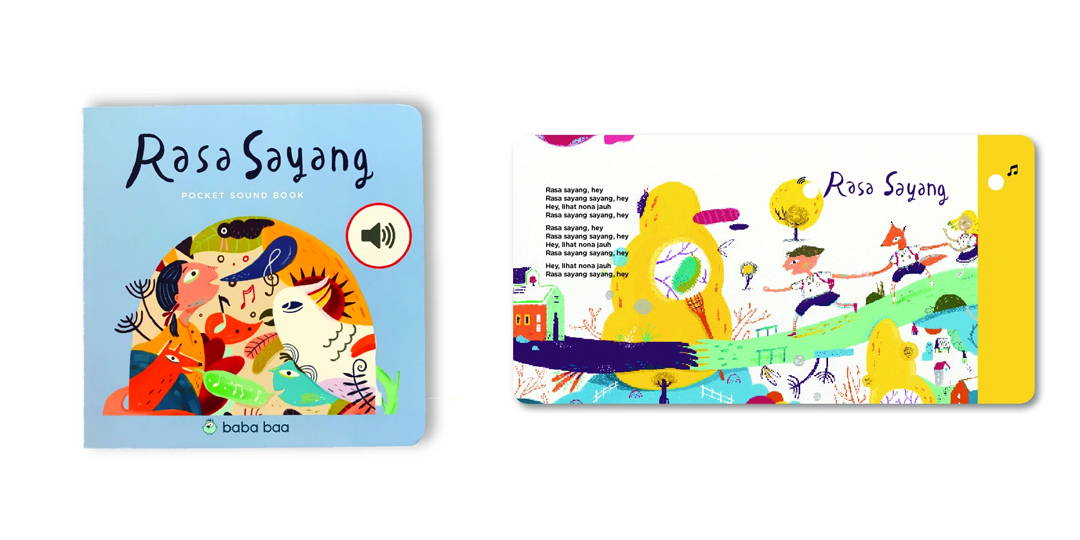 If the Rasa Sayang Sing-and-Record Fun Book is the big brother, this one is its little sister! The Pocket Sound Book version fits almost all the goodness of its bigger counterpart, except that it now fits much easier into your handbag or your child's backpack while also weighing much lighter!
This small and compact book also comes pressable buttons that play back nursery rhymes and matching sound effects that make it easy for your kids to jump into the songs wherever you are!
Songs included:
Rasa Sayang
Chan Mali Chan
Burung Kaka Tua
Anak Itik Tok Wi
Gelang Sipaku Gelang
Ways to use it:
• Bring this book around with you wherever you go and use it as a way to keep your kids occupied during busy moments such as grocery shopping or waiting at a clinic.
• Or use it as a tool to complement your kid's play or learning activities, keeping the mood fun with catchy tunes.
Tepuk Amai-Amai Sing-and-Record Fun Book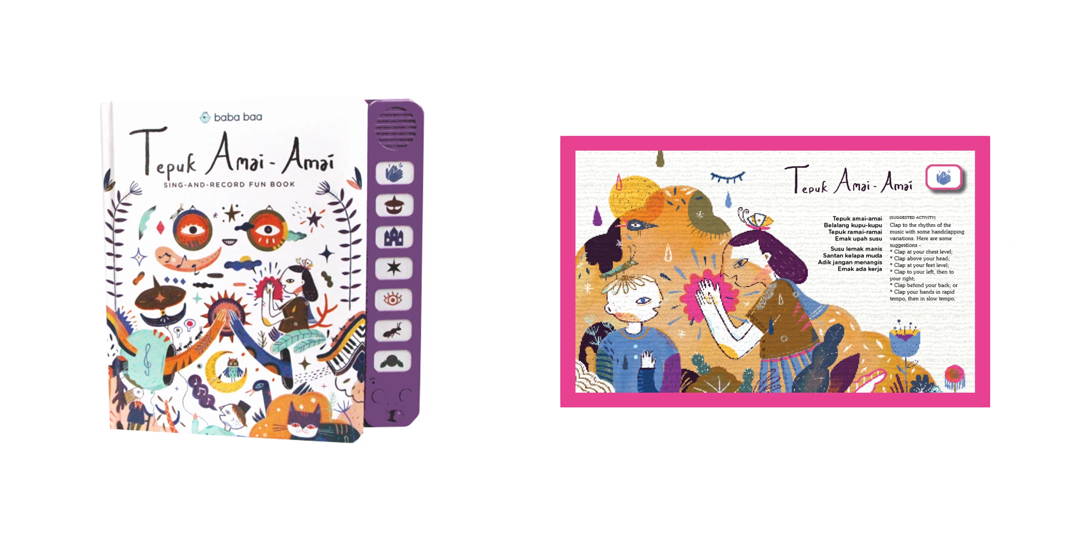 The Tepuk Amai-Amai book is our second sing-and-record book that features seven Nusantara children's classics, all of which can be played back via the included sound module that also lets readers record and listen to their own renditions over and over again!
A unique feature within the Tepuk Amai-Amai book is the guided clapping activities that encourage you to clap along to the rhythm of each song, with different variations included to help babies and toddlers understand musical rhythm, tempo, and how to move to the beat.
Ways to use it:
• Add it to fun learning or play sessions. You can let them learn the songs on their own or join them in a bit of karaoke fun. This gets them excited to sing, while also helping them become familiar with Nusantara folk songs.
• Use the guided clapping exercises as a fun physical activity with your kids. This activity helps them develop a love for music and is a great way to get their bodies moving.
Press-and-Learn English Malay Chinese Words Sound Book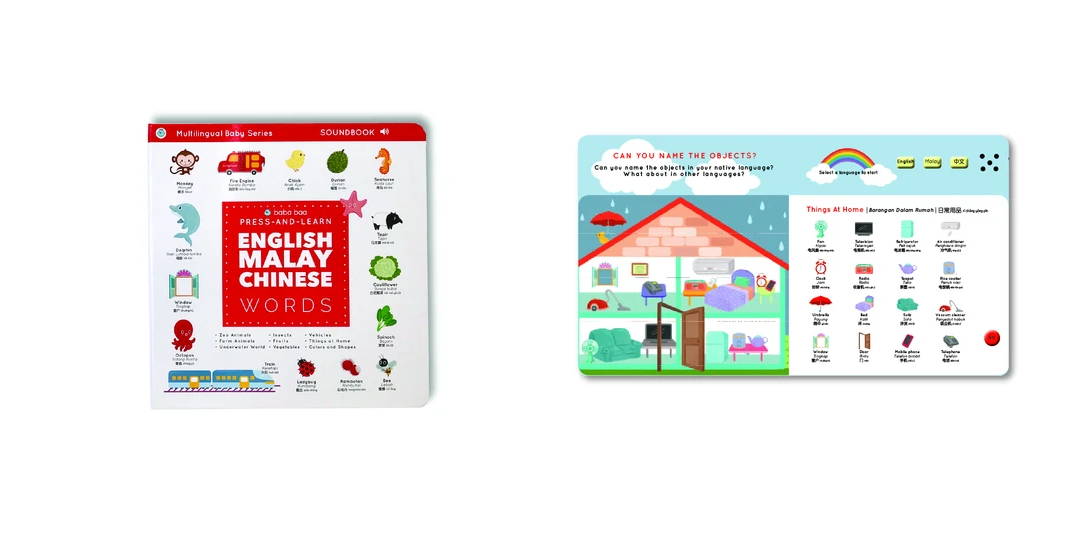 Another one of our most popular titles, the Press-and-Learn English Malay Chinese Words Sound Book is jam packed with incredible features that make it easy for kids to learn and pronounce simple vocabulary in three languages—English, Malay, and Chinese!
With hundreds of words included, young readers can quickly become familiar with the world around them. Word categories include things like fruits, animals, insects, colours, shapes, household objects, and much more, and each comes with cute and colour illustrations to show readers what they look like.
The included sound module completes the experience, with the correct pronunciations for each word in English, Malay, and Chinese complemented by accurate sound effects to help kids develop a deeper understanding of each word.
Ways to use it:
• Use the Press-and-Learn sound book to help kids discover new words through learning about everyday items and living things.
• Give your kids a head start by teaching them vocabulary in three different languages at an early age.
• With so many words included, it's easy to set up mini fun trivia games and quizzes that test your kid's memory and their understanding of all the things they've read in the book.
Bawang Putih & Bawang Merah Sound Book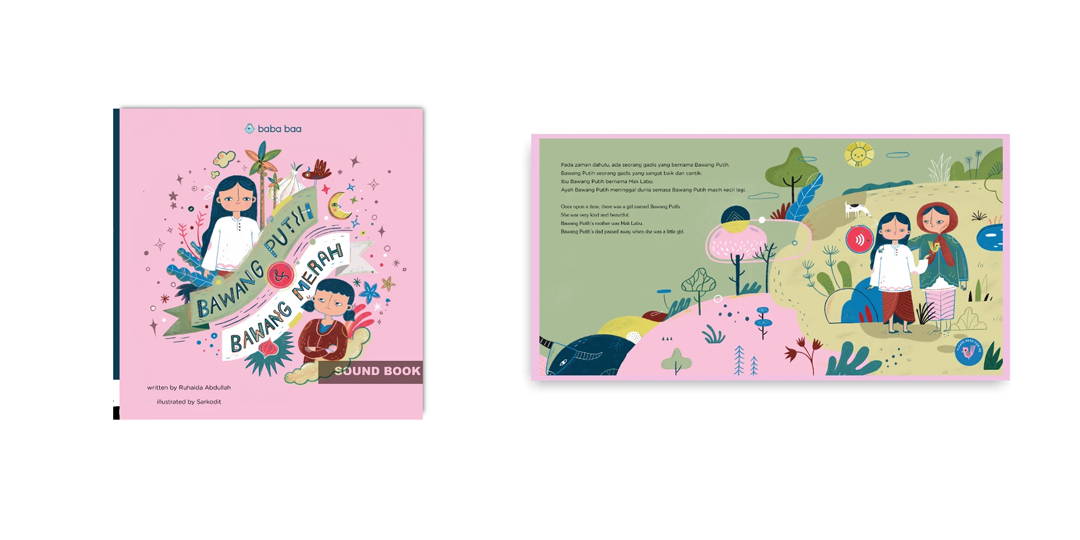 Bawang Putih & Bawang Merah is our first ever story book, combining an enchanting plot with plenty of musical magic to help young readers feel more immersed during reading sessions.
The story is a modern classic about a girl named Bawang Putih who struggles against the cruelty of her wicked stepsister Bawang Merah, and her journey to find her own happiness, with plenty of adventure in between.
The book comes feature packed with pressable sound clips, music, and bi-lingual narration in Bahasa and English to breathe life into the story and make every reading session exciting for babies and toddlers.
Ways to use it:
• Read it to your little one before bed and take advantage of the opportunity to spend quality time as you both read the story aloud and have fun with the music and sound effects.
• Ask your kid what they learned or tell them what you think of the story and the lessons within. Telling your kids stories will help them develop more colourful personalities and the ability to think more critically about life.
English Rhymes & Lullabies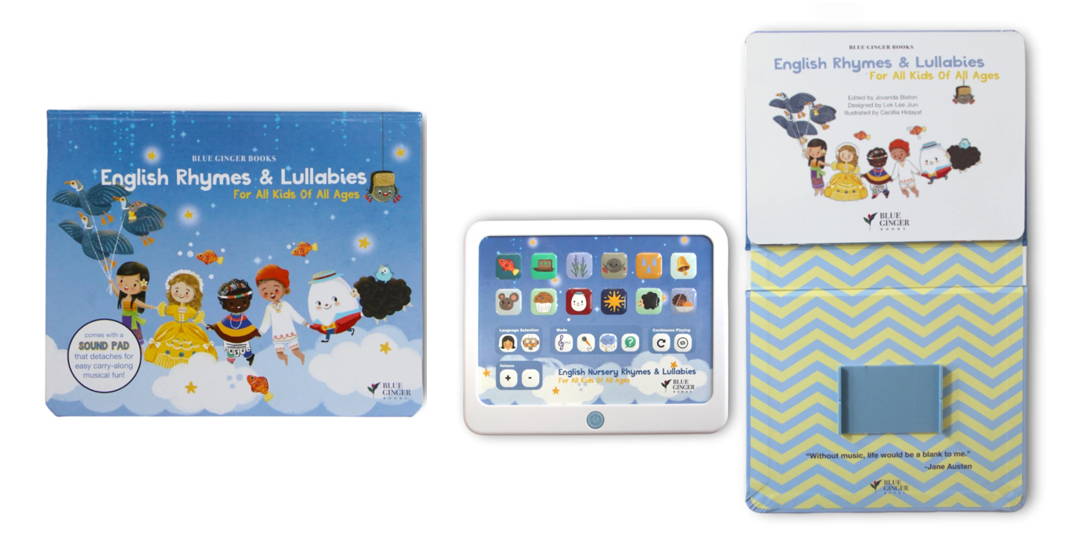 Our latest title was made for kids of all ages! The English Rhymes & Lullabies sound book is filled with the world's most beloved English nursery rhymes and children's songs, making it the easiest way for you to get your little ones well acquainted with these hallmark tunes and have them start singing along.
The book contains no less than 12 well-known songs and rhymes, each illustrated with their own cultural settings:
One, Two, Three, Four, Five
Row, Row, Row Your Boat
Lavender's Blue
Incy Wincy Spider
Rain, Rain Go Away
Are You Sleeping?
Hickory Dickory Dock
The Muffin Man
Humpty Dumpty
Twinkle, Twinkle, Little Star
Baa Baa Black Sheep
Rock-a-Bye Baby
Also included is a sound panel that can play back each song in rich detail, and also ask young readers trivia questions based on the lyrics. For example, "does rain have smell?", "what's the biggest fish in the ocean?", and "do stars twinkle?".
Ways to use it:
• Use the book to introduce your kids to the most famous nursery rhymes in the world and help them learn each one by letting them listen via the sound module.
• Help your kids understand each nursery rhyme deeper via the trivia section on the sound panel. Each question comes with an answer that reveals more about the world, and you can engage with your kids in fun Q&A sessions as well!
And that's that!
Now that you've discovered just how incredible our titles can be, it's time to treat your little ones to some quality learning and bonding time.
Simply head on over to our store at the link below to order the copy that suits your child's needs best and be sure to keep an eye out for more magical book titles from us coming soon!
Click here https://www.bababaa.com/ to shop now!